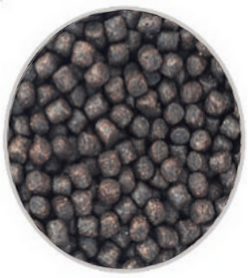 Steelhead MB
Regular price $39.20 Sale
To place an order for more than 10 bags of feed, please email us info.usa@skretting.com to obtain shipping and pricing information. 
Steelhead MB takes advantage of recent advances in nutrition and formulation knowledge that allow for increased raw material flexibility while maintaining fish performance, flesh quality, and fish health. Steelhead MB is formulated to meet the same proximate specifications as Extruded Steelhead and offers equal fish performance. Using Skretting's MicroBalance technology, Steelhead MB represents an economical
and sustainable feed choice.
Available in addition to Extruded Steelhead, giving you more dietary choice
Floating pellets are available in 40 lb. bags
Composition
| | | | | | | |
| --- | --- | --- | --- | --- | --- | --- |
| Pellet size (mm) | Protein (min) | Oil (min) | Moisture (max) | Fibre (max) | Ash (max) | DE** (MJ/kg) |
| 3.5 | 45% | 16% | 9% | 3% | 12% | 17.0 |
| 4.5 | 45% | 16% | 9% | 3% | 12% | 17.0 |
| 5.5 | 45% | 16% | 9% | 3% | 12% | 17.0 |
 * Floating pellet
** DE = digestible energy